Welcome to Washington County
Greeting from our County Judge,
John Durrenberger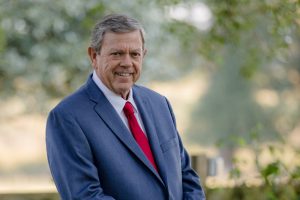 Washington County is unique for many reasons, the distinction as the "birthplace" of Texas, Blue Bell Ice Cream, our geographic location between major metropolitan areas such as Austin and Houston, and most of all our visionary leadership and committed citizens that make our county such a special place.  We are also fortunate to have a strong workforce, two strong public school systems, Blinn College remains a strong leader in the higher education arena, and we are fortunate to have vibrant agriculture and innovative businesses impacting not only our local, but state and national economies.  Thanks to past visionary leadership, Washington County has become an attractive area for business and economic development.
The Washington County Commissioners Court and the entire county leadership welcome the opportunity to work with new and existing businesses, identify opportunities to not only enhance our economy and workforce, but also preserve our history and maintain the quality of life that our residents enjoy.  As County Judge, it is an honor to have the opportunity to work with leadership throughout the county and help drive economic prosperity while planning for the future generations of Washington County residents.  Washington County is abundant with innovative business opportunities, tourism programs, and dedicated public servants that are ready to step up to the next challenge.
As your business identifies ways to collaborate with Washington County, our door is "Open for Business" and we look forward to working together to continue making Washington County the unique part of Texas we all call home.
As visitors enter Washington County, they are welcomed by monument signage at each of the five entry points to the county.  These signs are maintained by four landscaping companies from the community that have volunteered to oversee their maintenance.  With the help of these partners and the Office of the Washington County Judge, the Chamber coordinates the ongoing maintenance and repair of these iconic signs.