Washington County Magazine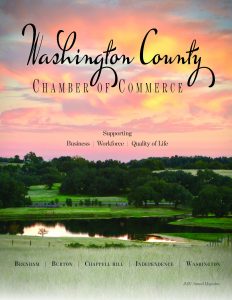 View the Chamber's award-winning magazine by visiting the links below.  You can read articles about our local healthcare industry, education, recreation, history and more!
All members are listed in the Business Directory, and many also sponsor larger display ads and features.  (Member: contact the Chamber for more details about participating in the next magazine project.)
2020 Washington County Magazine
Call the Chamber at (979) 836-3695 to reserve your space for the 2021 Magazine.
About the Washington County Chamber - Brenham, Texas
As a small business owner, you may feel that your voice is too small to be heard. But as a member of the Washington County County Chamber of Commerce, you can have your voice heard at the local, state, and national levels.
The Chamber is the organization that unifies the public spirit of the community and brings people and businesses together to do important and meaningful projects for the local economy.  The Chamber is successful because of the many MEMBERS and VOLUNTEERS that participate year after year, since the Chamber first began here in 1917.
See the links on the left to view lists of the Board Members, Blue Blazers volunteers, staff members, Young Professionals, etc.  Then click around the rest of the site to learn about current programs and projects.  Please call us or stop by and visit to share your ideas and questions at any time.
An important way we stand up for the interests of Washington County is through membership in the Texas Association of Business and the U.S. Chamber of Commerce. Both organizations are on the front lines everyday working in the best interests of business owners, both large and small.  Learn more about these organizations below.
Click on the document links below to learn more about joining or view the current BY-LAWS of the Washington County Chamber of Commerce.