Washington County Magazine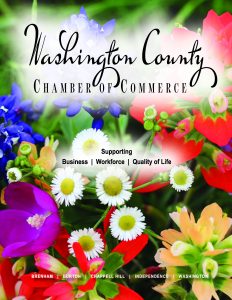 View the Chamber's magazine by visiting the links below.  You can read articles about our local healthcare industry, education, recreation, history and more!
All members are listed in the Business Directory, and many also sponsor larger display ads and features.  (Member: contact the Chamber for more details about participating in the next magazine project.)
About the Washington County Chamber - Brenham, Texas
Over the last 105 years, the Washington County Chamber of Commerce has established a long-standing tradition of excellence by promoting a collaborative and positive business climate for our community. The Chamber serves as the guardian of the local economy by coordinating the efforts of local leaders to maintain and strengthen a healthy business climate.  The Chamber is the catalyst of change as it provides leadership in solving community problems and initiates community action.   The Chamber Team includes the Board of Directors, Blue Blazers, Young Professionals Organization (YPO), Chamber members and staff.  Each is dedicated to the fulfillment of the Chamber's Mission:  To promote a positive economic impact and quality of life while preserving the natural beauty and rich heritage of Washington County.  This mission can be summarized by the commitment to support three keys areas:  Business, Workforce and Quality of Life.   The graph below represents that focus.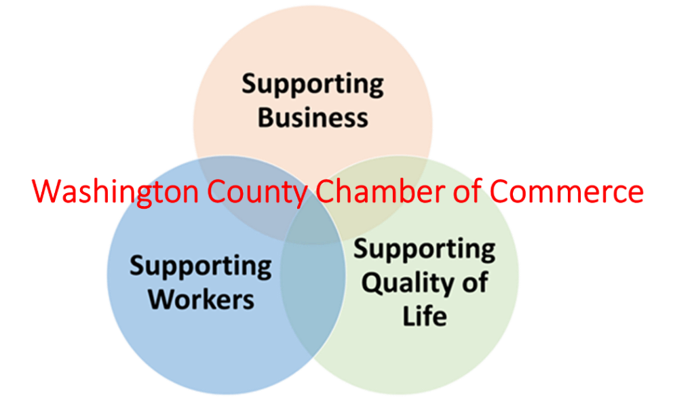 An important way we stand up for the interests of Washington County is through membership in the Texas Association of Business and the U.S. Chamber of Commerce. Both organizations are on the front lines everyday working in the best interests of business owners, both large and small.  Learn more about these organizations below.
Click on the document links below to learn more about joining or view the current BY-LAWS of the Washington County Chamber of Commerce.