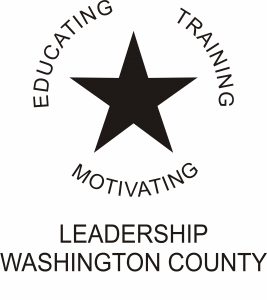 Leadership Washington County
Harry Truman once noted, "Where there is no leadership, society stands still. Progress occurs when courageous leaders seize the opportunity to change things for the better."
"One of the tests of leadership is the ability to recognize a problem before it becomes an emergency."  - Arnold Glasow
The Washington County Chamber of Commerce embraces this thinking. That's why each year Leadership Washington County is held, and it is one of the key programs offered by this Chamber.
The goal of this program is to educate and prepare participants for future leadership roles in this community, and to help expand their knowledge of local resources and issues.
After graduating, participants can stay involved by helping to facilitate sessions for the next years' Leadership classes.
Applications for the 2023-2024 LWC Class are now being accepted. Click Here for more information.
Leadership Washington County Class of 2023
Wanda Avalos - Bank of Brenham
Taylor Boeker - Seidel Schroeder
Kyle Branham - City of Brenham
Myron Dippel - Blinn College District
Clay Gillentine - Brenham ISD
Micah Goebel - Burton ISD
Kris Gore - Wellmann Insurance
Sandra Grieve - BRIANNAS Fine Salad Dressings
Cody Grubbs - Blue Bell Creameries
Whitney Hooks - Brazos Valley Schools Credit Union
Cherí Janner - Brenham Charcuterie Boards
Christine Johnson - Brenham ISD
Kristin Jungers - Brenham ISD
Sharon King - Baylor Scott & White - Brenham
Spencer Kunkel - Wellmann Insurance
Genna Lechler - Brand It Graphix
Lauren Lewis - Blue Bell Creameries
James Llewellyn - Citizens State Bank
Janette Mathis - Burton ISD
Allen McBride - Camp For All
Joseph Medrano - Cross Country Mortgage LLC
Sara Nagel - BRIANNAS Fine Salad Dressings
Owen Ondruch - Mike Hopkins Distributing
Pita Pangan - Associated Credit Union of Texas
Kendra Perry - Brenham State Supported Living Center
Samantha Pietsch - Coldwell Banker Properties Unlimited
Sara Ramirez - Germania Insurance
Jamie Rankin - Washington County Chamber of Commerce
Kayla Rybarski - Brenham National Bank
Stephen Scheffer - City of Brenham
Amanda Schluens - Coldwell Banker Properties Unlimited
Jason Von Rosenberg - Seidel Schroeder
Tina Webb - Glasco Stone & Landscaping
Christy Wiens - Germania Insurance
Roger Williams - City of Brenham Fire Department