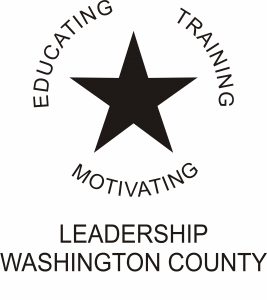 Leadership Washington County
Harry Truman once noted, "Where there is no leadership, society stands still. Progress occurs when courageous leaders seize the opportunity to change things for the better."
"One of the tests of leadership is the ability to recognize a problem before it becomes an emergency."  - Arnold Glasow
The Washington County Chamber of Commerce embraces this thinking. That's why each year Leadership Washington County is held, and it is one of the key programs offered by this Chamber.
The goal of this program is to educate and prepare participants for future leadership roles in this community, and to help expand their knowledge of local resources and issues.
After graduating, participants can stay involved by helping to facilitate sessions for the next years' Leadership classes.
2022-2023 Leadership Application .  The deadline to submit is August 9, 2022.
Congratulations to the Leadership Washington County Class of 2022!
Monique Breaux, City of Brenham
Leah Cook, City of Brenham
Sarah Cook, Brenham ISD
Kyler Crenshaw, Bank of B/CS
Shequita Dickerson, Brenham State Supported Living Center
Alex Dill, City of Brenham
Cindy Garnica, Blue Bell Creameries
Sheila Hagemann, Germania Insurance
Ashley Hall, Pooltex American
Derek Hall, Brenham Banner Press
Lacey Harwood, Board & Brush Brenham
Courtney Hendrick, Seidel Schroeder
Justin Hupe, Brenham National Bank
Jeremy Johnston, Burton ISD
Rachel Jozwiak, Southern District Properties-Compass
Katie Kieke, Burton ISD
Andrea Kitzmann, Keller Williams Realty
Cathie Klatte, Bank of Brenham
Neil Krebs, NK Digital Marketing
Renee Lange, Brenham State Supported Living Center
Carlee Langley, Christy Schlottmann Farmers Insurance Agency
Brooke Lara, Blue Bell Creameries
Jeshvi Manhar , Baylor Scott & White-Brenham
Christina Marinis, Germania Insurance
Adrienne McCain, Blinn College District
Jay McKeown, BRIANNAS Fine Salad Dressings
Collin Newsome, Germania Insurance
Carl Prihoda, Citizens State Bank
Joliee' Robinson, Thrivent
Linda Santleben, Mike Hopkins Distributing
Adonna Saunders, City of Brenham
Payne Schuelke, Brenham Abstract & Title Co.
Erica Warren, Brenham/Washington County Economic Development
Matt Wellmann, Wellmann Insurance Agency, Inc.