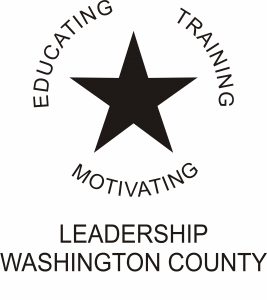 Leadership Washington County
Harry Truman once noted, "Where there is no leadership, society stands still. Progress occurs when courageous leaders seize the opportunity to change things for the better."
"One of the tests of leadership is the ability to recognize a problem before it becomes an emergency."  - Arnold Glasow
The Washington County Chamber of Commerce embraces this thinking. That's why each year Leadership Washington County is held, and it is one of the key programs offered by this Chamber.
The goal of this program is to educate and prepare participants for future leadership roles in this community, and to help expand their knowledge of local resources and issues.
After graduating, participants can stay involved by helping to facilitate sessions for the next years' Leadership classes.
For full details about the Leadership Washington County program, including a calendar of sessions and the application, CLICK HERE.
Congratulations to Leadership Washington County Class of 2021!
Blake Barnes, Baylor Scott & White - Brenham
Cody Boeker, Seidel Schroeder
Heather Braeuer, Seidel Schroeder
Tylor Chaplin, Brenham ISD
Deb Cordes, The Errand Lady
Gary Durrenberger, Bank of Brenham
Scott Eckert, Del Sol Food Co.
Amy Ehlert, Brenham National Bank
Jhonatan Rios, Del Sol Food Co.
Mike Gartner, Brenham State Supported Living Center
Chip Harris, Adult & Teen Challenge of Texas
Brandi Hendrix, Brenham ISD
Hannah Hernandez, City of Brenham
Amanda Horak, Washington County District Attorney's Office
Crystal Januhowski, Champion Ranchers Construction and Crystal Clear Marketing
Seth Klehm, City of Brenham
Kara Matheney, Washington County AgriLife Extension Service
Chris McCain, City of Brenham
Daniel McCracken, City of Brenham
Joe Moore, City of Brenham
April Oliver, Germania Insurance
Stacy Saunders, Germania Insurance
Lauren Schobel, Germania Insurance
Charles Seely, Citizens State Bank
Kristin Sexton, Del Sol Food Co.
Christy Shelton, Brenham State Supported Living Center
Ervin Tejeda, Del Sol Food Co.
Matt Wamble, Burton ISD
Harrison Williams, Washington County Fairgrounds